Only months after announcing its planned retreat from the consumer & middle-market banking business in Mexico, Citigroup Inc. C is reportedly in talks to buy Deutsche Bank AG's DB Mexican bank.
According to people familiar with the matter, Deutsche Bank will retain its brokerage unit that it relaunched in the country earlier this year. The company has been paring down its Mexico operations since 2015 as part of its plan to exit from 10 countries.
People also noted that talks for the German lender's sale of Mexican operations are in the early stages and may not result in a deal, and any sale would require regulatory approval.
In early January this year, Citigroup announced its plans to exit the consumer, small business and middle-market banking operations of Citibanamex in Mexico as part of its strategic refreshending its 20-year retail presence in the country. Nonetheless, the bank will continue to operate a locally-licensed banking business in the region through its global Institutional Clients Group (ICG) arm and the private bank segment.
While the ICG unit caters to corporations, governments and financial institutions, the private bank segment serves wealthy individuals and families. Hence, the deal will help C to serve its targeted audience better.
A spokesman for Citigroup said, "Citi has operated in Mexico for more than a century and the country will remain among Citi's top institutional markets outside of the US." He continued, "As we have said, we intend to continue to operate a locally licensed banking business in Mexico through our institutional clients group, and our private banking franchise."
Since obtaining a banking license in Mexico can be a lengthy process, Citigroup's buyout of DB's banking operations in the country might help sidestep the inconvenience.
In addition to C's Mexico consumer banking business exit, the big bank is making progress on the strategic action announced in April 2021 to exit the consumer banking business in 13 markets across Asia and EMEA, including Australia, Bahrain, China, India, Indonesia and Korea. The company signed deals to sell nine consumer businesses in Australia, Indonesia, Malaysia, Philippines, Thailand, Taiwan, Vietnam, India and Bahrain. It also plans to gradually wind down its consumer banking business in South Korea.
Such exits will free up capital and help the company pursue investments in wealth management operations in Singapore, Hong Kong, the UAE and London to stoke growth. Notably, Citigroup anticipates the release of $12 billion (in aggregate) of allocated tangible common equity over time from such market exits. These efforts will likely help augment its profitability and efficiency over the long term.
In the year-to-date period, Citigroup's shares dipped 12.8%, narrower than the industry's decline of 16.5%.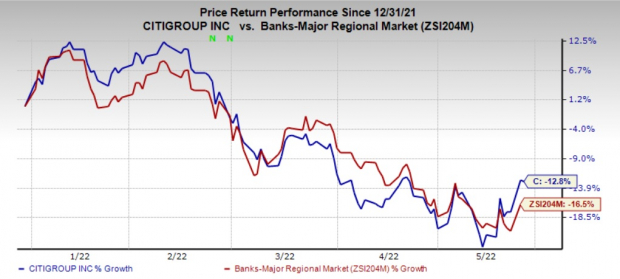 Image Source: Zacks Investment Research
Inorganic Moves by Other Companies
With a view to help its clients build long-term financial wellness, Truist Financial Corporation TFC acquired the award-winning gamified finance mobile app, Long Game. Long Game changes the way people engage with their banks. The finance mobile app uses prize-linked savings and casual gaming to motivate smart financial behavior.
Truist Financial is expected to use Long Game's innovative technology to inspire and build better lives and communities.
Itaú Unibanco Holding S.A ITUB announced the completion of its acquisition of 11.36% equity interest in the total capital of XP Inc. on Apr 29, 2022, for a deal value of R$ 8 billion.
The acquisition of XP is not expected to have any material impact on Itaú Unibanco's current fiscal year's results. Further, there will be no change in the corporate governance of XP as a result of the acquisition. ITUB received approval from Central Bank of Brazil to acquire the minority interest in XP in November 2021.
Zacks Names "Single Best Pick to Double"
From thousands of stocks, 5 Zacks experts each have chosen their favorite to skyrocket +100% or more in months to come. From those 5, Director of Research Sheraz Mian hand-picks one to have the most explosive upside of all.
It's a little-known chemical company that's up 65% over last year, yet still dirt cheap. With unrelenting demand, soaring 2022 earnings estimates, and $1.5 billion for repurchasing shares, retail investors could jump in at any time.
This company could rival or surpass other recent Zacks' Stocks Set to Double like Boston Beer Company which shot up +143.0% in little more than 9 months and NVIDIA which boomed +175.9% in one year.
Free: See Our Top Stock and 4 Runners Up >>
Citigroup Inc. (C): Free Stock Analysis Report
Deutsche Bank Aktiengesellschaft (DB): Free Stock Analysis Report
Itau Unibanco Holding S.A. (ITUB): Free Stock Analysis Report
Truist Financial Corporation (TFC): Free Stock Analysis Report
To read this article on Zacks.com click here.
The views and opinions expressed herein are the views and opinions of the author and do not necessarily reflect those of Nasdaq, Inc.